Are you looking for the next step towards success with women? Do you want a guide to making all your seduction decisions: what to wear, where to go, what to say, even the correct body language and tonality? Want to hear the secrets of the expert himself, James, right on your I-Pod or home computer?
Then How to Be Irresistible to Women PREMIUM © is for you! It's an absolute must-have if you are really serious about becoming irresistible to women. In this comprehensive seduction guide, available INSTANTLY upon download, you'll learn advanced, proven techniques that are certain to have a profound impact on your dating future.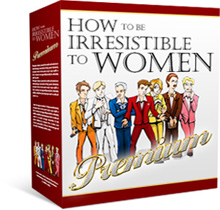 Tired of doing all the attraction work yourself, like the woman has all the power? With How to Be Irresistible to Women PREMIUM, I empower you with the inner game and outer games you need to turn the tables and attract women on sight!
In this 30-lesson, 5-hour audio course, I cover all the stages of making can't-miss impressions on women. You'll learn how to build an identity she can't resist; how to get your head together so you'll never lose her; how to condition yourself for success; and how to build your encounters with women around a life purpose. I'll tell you all the qualities you need to impress women: how to overcome your insecurities and fears; how to successfully catch her attention; the art of the approach; and how to project high status wherever you go.
On top of that, I will personally guide you through the intricate stages of dating, so you can always be confident that the woman finds you attractive. No more worrying if your approach technique works. No more doubting if you're saying the right things. And no more panicking over whether you're interesting or attractive enough for her! After you finish my course, your date will be wondering if she's good enough for you!
Listen to the lessons within 2 minutes of your purchase, and be on your way to becoming a female attraction machine in no time! Download my course to your computer, or even to your I-Pod, so you can become the man you always wanted to be: at home, on the way to work, or even in the office!
"I've had dates with numerous hot women "
"I am short for a man...And I used to have no luck whatsoever with women. However, after using your techniques, I've had dates with not just one, but numerous hot women!...I'm so happy and satisfied. I'm convinced that you are one of the best female seduction experts around!"
-- Jason Rico (San Francisco, CA)
Together, the How to Be Irresistible to Women PREMIUM and How to Be Irresistible to Women MASTERY Series Membership make a powerful one-two 'how to seduce women' punch. Start charming, attracting, impressing and seducing virtually any woman that you want - with the confidence and comfort of a natural.
Can you really afford to ignore your dream? If your dream is to attract the woman of your dreams, NOTHING should stop you! For less than the cost of a night at the movies, you can get How to Be Irresistible to Women PREMIUM and learn boatloads of tips, techniques, and exercises designed to permanently transform your love life and dating disasters.
Finally, you'll be super-confident in your ability to attract and seduce any woman you want!
And when you claim How to Be Irresistible to Women PREMIUM along with your How to Be Irresistible to Women: The Mastery Series Membership you'll get a significant 40% discount and receive How to Be Irresistible to Women PREMIUM for just $49.95 $30!
Guys, this is top-notch advice that will change your life forever. If you're truly serious about overcoming your limitations and becoming a new, successful you, then How to Be Irresistible to Women PREMIUM is the extra boost you need. Get it now!